To schedule a rental you can contact Arul at
PoleArity Palace Empowered Movement Studio and Holistic Suite
PoleArity Palace Empowered Movement Studio and Holistic Suite is a warm and vibrant healing sanctuary for movement, connection and fun in the heart of the bustling Chelsea neighborhood of NYC.
The possibilities are endless…
Host a small group meeting, coaching session, yoga or meditation class in our peaceful Illumination Room.
Offer services to your private clients in our cozy 1:1 Session Room, equipped with a massage table, robes, linens and more. No lugging required!
Boost the detoxification power of your time here with a sweat in our professional-grade infrared sauna.
Expand and flow into our largest room, The Movement Haven, for your choice of yoga, dance, sensual movement, pilates, contact improv, silent disco parties, acting rehearsals and pole-dance technique classes - we have five professionally installed poles in the room.
Facilitate a networking event or educational workshop with our state-of-the- art sound system and sleekly framed 75-inch wall-mounted Samsung TV with Zoom capabilities for your presentations and virtual attendees.
Scoping out spots for a ceremony, birthday or bachelorette celebration? We have the hook-up for you: rent out the space and then bring all your goodies to our kitchenette lounge with brand-new stainless steel dishwasher and refrigerator, cabinet space, and kitchen island.
Dreaming of the perfect space to hold full-day retreats in an easily accessible part of NYC? Your attendees will drop in and feel at home with our welcome lounge, water filter, private lockers and velvet-draped four- booth changing room with seating and vanity mirrors. It's so lovely in there guests have been know to just hang out and chat 🙂
Calling all photographers, videographers and those seeking a unique spot for their photo or video shoot: all of our rooms stand out with gorgeous hand-applied Versace wallpaper. Each room is different, creating a variety of interesting vibes and elegant backdrops. We are a southern exposure building with plenty of natural light.
No matter how you choose to express, share and heal in our studio, you can rely on:
Security
There is a door person in the building lobby weekdays from 10am-6pm. We will have a friendly front desk support person in our welcome lounge for the duration of your rental to check in your guests and help you with any of the amenities. We also have a brand-new security and surveillance system for your protection.
Rent out our entire 4000 square foot space for your next event, workshop or gathering! Enjoy the comfort, security and beauty of a centrally located dynamic and professional studio ready for you and your attendees.
Hourly Studio Rental Pricing starts at a 3-hour minimum
Daytime Rate: $377/hour
Evening Event Rate: $437/hour
Looking for a place to host a multi-day retreat? We have the perfect solution. Rent PoleArity Palace at our full day rate and direct out-of-town attendees to The Renaissance New York Chelsea Hotel, located just next door and featuring beautiful rooms and rooftop pool and restaurant.
Full Studio Rental Daily Rate: $1700
Two-Day Studio Rental: $2700
Two-Day Studio Rental: $2700
Usage of professional sound system, wifi and both Samsung wall-mounted framed TVs
Access of welcome area, all bathroom, lockers, changing rooms
Access to The Kitchenette
Usage of all towels, linens and treatment products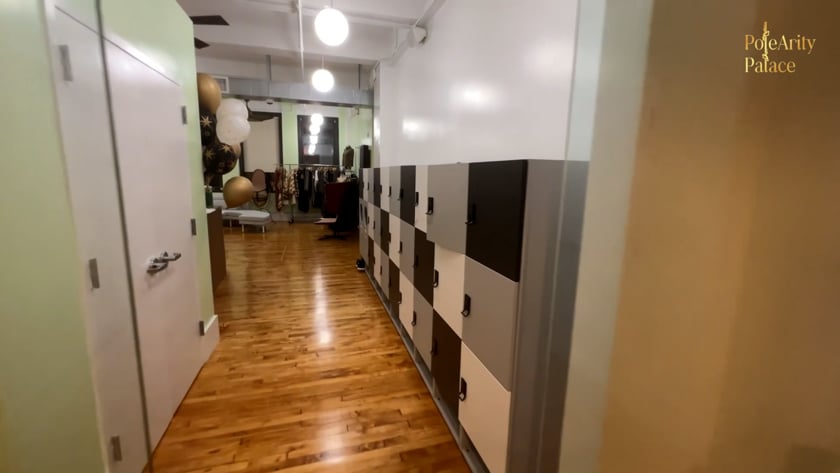 The studio is 4000 square feet, with three main rooms for rent:
The Illumination Room is our sunny tropical oasis where you can decompress and reconnect and host intimate-sized classes and private sessions.
The wallpaper is a peaceful green palm tree print with glossy hardwood floors. Sunlight streams in through the windows from this Southern-exposed unobstructed view, providing the the sort of warmth a cat would stretch out into and purr.
Soft meditation cushions, yoga mats and props and other cozy seating can be found in the room closet. Let your guard down and bask in the relaxation.
Best for a movement class of up to five people, or a seated class of up to 10.
$57/hour, Two-Hour minimum
Front desk support person
Access to welcome lounge, bathrooms, lockers and changing room
Usage of professional sound system and wifi
The Movement Haven is our grandest room; designed for larger group classes, events and ceremonies or experiences where you need more space to spread out and move.
This is also the space for pole-centered fitness, dancing and technique as we have four stationary poles; two on each side of the room and one pole in the center of the room that can be swept up into the ceiling.
The wallpaper is a teal and lavender vintage showgirl print that adds chic inspiration to the space for dance classes and workshops.
This room also houses our 75-inch wall-mounted Samsung TV with virtual capabilities for presentations, slideshows and Zoom.
L: 36'7 X W: 18 X H: 11'5
Best for a movement class of up to 15, a seated seminar for up to or a standing room event of up to
$97/hour, Three-Hour Minimum (``Are you a pole teacher looking for practice space? Contact Arul at arul@polearitypalace.com for teacher practice pricing``)
$57/hour, Two-Hour Minimum
Front desk support person
Access of welcome area, bathroom, lockers, changing rooms
Usage of professional sound system, wifi and 75-inch wall mounted TV
This room houses our professional-grade infrared sauna; it is an stress- relieving, healing experience on its own or as an addition to anything else
you or your clients do at PoleArity Palace. Benefits of the deeply penetrating heat of an infrared sauna treatment includes:
Improved blood circulation which aids in cell regeneration and healing
Beautifies the skin and reduces signs of aging through removing dead skin cells, circulating nutrients through the skin, opening the pores and improving skin
Increases metabolism and with a burn of up 600 calories per session
Powerful detoxifier through the flushing out of heavy metals, fat-soluble chemicals and mycotoxins
The sauna room does not have a shower, and it is not recommended that you shower directly after a sauna so the body can cool down.
Clean towels and body wipes will be provided in the room for after your treatment.
This room is for only the sauna treatment. The sauna holds one person for a solo treatment, or two people if they know each other and consent to using the sauna together.
$37/solo session Buy a package of 10 solo sessions for $300, a $70 savings! Two-person session is $50
This cozy healing room contains everything you need for your private service of acupuncture, bodywork, energy healing, skincare and more!
The room is equipped with a professional massage table and clean linens.
You will also find freshly laundered towels, robes and the little details that offer a true spa experience including a towel warmer and essential oil diffuser. There is also a bluetooth speaker so you can play your favorite soothing music.
This room is for one practitioner and one client
$67 for a one-hour rental includes 10 minutes of buffer time on either end
Pricing hour at a 3-hour minimum $47/hr
Front desk support person
Usage of professional sound system and wifi
Access of welcome area, bathroom, lockers, changing room
You and your guests will feel immediately welcomed as you open the glass front door to our studio and our greeted by a friendly front desk support person to check in clients and class attendees and answer any questions during your stay. Here you will also find our coat closet, shoe cubbies and private lockers. There is also a water cooler for filling up, and small retail area with local art for sale and holistic products. Relax in our comfortable Lithuanian couches and chairs or juice up your phone in one of the charging sockets.
This space includes four all-gender velvet-draped changing stalls with four corresponding mirror and vanity area with seating. The Versace wallpaper of pink butterflies against soft gray and vintage floral vanity mirrors with velvet ottomans make it another fun spot for photography or freshening up with friends for a night out.
There are three public hallway bathrooms that are wheelchair accessible and kept clean and stocked. There is a one private staff bathroom in the studio that is available with full studio rental.
4. Kitchenette Lounge, available with full studio rental only
kitchen has a brand new dishwasher, stainless steel refrigerator and deep washing sink with a kitchen island and four corresponding stools. This is where you can store and prepare your meals or event refreshments.
This space has additional seating: a comfortable couch, desk and chair and a 65-inch Samsung sleek wall-mounted framed TV with display and Zoom capabilities.
138 W 25th Street, between 6th and 7th Avenues near Madison Park and Union Square, next door to The Renaissance New York Chelsea Hotel.
We are located at 138 W 25th Street, between 6th and 7th Avenues near Madison Park and Union Square, next door to The Renaissance New York Chelsea Hotel.
Take any of these to14th Street and 8th Avenue or Union Square and take a short walk or transfer
Or you can take the M23 crosstown bus to W 23rd Street and 6th/7th Avenue
To schedule a rental you can contact Arul at